Strong. Stylish. Practical.
A floor you can live on.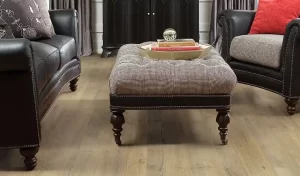 Our laminate flooring takes naturally occurring patterns and painstakingly replicates color tones, hues and texture of wood, stone or ceramic
Laminate flooring has become a popular choice for many homeowners due to its ability to closely emulate today's most popular hard surfaces, especially hardwood planks and ceramic or stone tiles. Besides the great textures and designs, laminate flooring offers improved durability, easier maintenance, and affordability compared to other types of hard surface floors. These floors are extremely resistant to wear, stains, and sunlight fading. The beautifully rich textured finishes make these floors a great alternative for most areas of the home
What is Laminate flooring?
Laminate flooring is a type of synthetic flooring product that simulates the look of hardwood, stone, or tile floors. It is constructed using multiple layers of materials that are fused together through a lamination process.
The core layer of laminate flooring is typically made of high-density fiberboard (HDF) or medium-density fiberboard (MDF), which provides stability and strength to the flooring. On top of the core layer, there is a high-resolution photographic layer that replicates the appearance of natural materials such as wood grain, stone patterns, or tile designs. This layer is protected by a transparent wear layer made of melamine resin, which provides durability and resistance against scratches, stains, and fading.
Laminate flooring is known for its versatility and affordability. It offers a wide range of design options, allowing homeowners to achieve the desired aesthetic for their space without the high cost and maintenance requirements associated with natural materials. The photographic layer can accurately mimic the appearance of various wood species, such as oak, maple, or walnut, as well as different stone or tile patterns.
Installation of laminate flooring is relatively straightforward. Most laminate products feature a "click-and-lock" or "tongue-and-groove" system, which allows the planks or tiles to be easily interconnected without the need for glue or nails. This feature makes laminate flooring a popular choice for DIY projects.
Laminate flooring offers several advantages, including durability, ease of maintenance, and resistance to moisture. It is generally more resistant to scratches, dents, and stains compared to hardwood flooring. Laminate floors are also relatively easy to clean, as they can be swept or vacuumed regularly and occasionally damp-mopped. However, it is important to note that laminate flooring is not completely waterproof and can be damaged by excessive moisture, so it is not recommended for areas prone to water spills or high humidity, such as bathrooms or basements.
In summary, laminate flooring is a cost-effective and versatile flooring option that mimics the look of natural materials like hardwood, stone, or tile. It offers durability, easy installation, and low maintenance requirements, making it a popular choice for residential and commercial applications.
Forge SA584 (#01004)
This style has all the features you could want out of laminate flooring. Thick 12mm planks with an in-register embossing. Exciting new random width product in 3.58″, 5″, and 6.24″ boards all packaged together. There are four planks of each width per carton. Designer imagery with all the realism of wood. This product comes in 5 trending colors that are unique and beautiful.