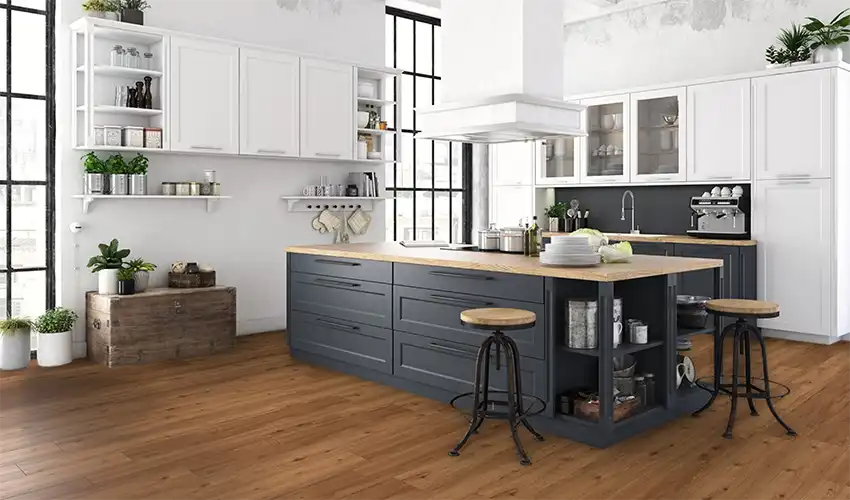 Elevate your flooring
Luxury Vinyl Plank / Tile (LVP/LVT)
Durable, style, and waterproof. Luxury Vinyl flooring lets you live worry-free!
Luxury vinyl plank (LVP) is a type of flooring material that is made to resemble the look of natural wood or stone but with the durability and ease of maintenance of vinyl. LVP is typically composed of several layers, including a wear layer, a design layer, a core layer, and a backing layer. The wear layer is designed to protect the floor from scratches, stains, and other types of wear and tear, while the design layer gives the material its visual appeal.
Surprisingly, there is a new trend of home innovation today and that involves the words vinyl and luxury. Yes, it's a luxury vinyl! Luxury vinyl tile and vinyl plank flooring (LVT & LVP) is a whole new kind of vinyl, one that is indeed much more sophisticated and desirable than the plastic sheet vinyl that homes used to consider. Luxury Vinyl Plank (LVP) / Luxury Vinyl Tile (LVT) is a product that looks like stone or ceramic tile, complete with gorgeous natural colors and surface texture that feels like the real thing while LVP is luxury vinyl flooring that looks like wood planks in everything from color to texture. With luxury vinyl plank, tile, or sheet vinyl you can pick a high-end look without a high-end price.  Northside Floors has a wide selection of hardwood and stone looks that can give any room the upgrade it deserves, even a bathroom, utility room, or your business.
LVT flooring refers to vinyl tiles while LVP flooring is vinyl in planks. The most important bit is the new printing and photographic technologies which authentically mimics both the look and the texture of real stone and wood product. And best of all, luxury vinyl tiles and planks are often cheaper than the real thing. With these attributes, LVT and LVP found a niche in the market and boosted its popularity.
Furthermore, luxury vinyl is soft and keeps a constant temperature in all seasons.  It's even comfortable to walk barefoot.  It can ease long periods of standing which makes it a great option for the kitchen and bath areas.
The performance you will get from the luxury vinyl plank and luxury vinyl tile will surprise you.  It can withstand spills, scuffs, and even scratches from your pets.  It's a tight, waterproof fit product with a very resilient surface which makes it an easy cleanup for those "oops" moments and won't hurt your subfloors.
LVP and LVT flooring is easier on your floor joints, much quieter underfoot than most hard surfaces, easy to maintain, available in a wide variety of colors, sizes, and styles, great for your home or your business, and a faster installation than hardwood or stone which ends up saving you money in the end.
How to maintain Luxury Vinyl Tile and Luxury Vinyl Plank
Cleaning on a weekly basis using simple cleaning tools like brushes and mops.
Doormats play a very important role in maintaining your vinyl tiles. Placing them in every doorway will surely trap dirt and excessive moisture from the outside. This will significantly reduce dirt and dust around your home. Just make sure that you will clean your doormats regularly as well.
Cleaning LVT/LVP
It is very simple to clean but more floors will require little more than a regular brush and mops.
Sweep with a soft brush to remove small debris. Regular use of a vacuum is also advised.
Washing weekly will also greatly help in cleaning your LVT/LVP. However, it is not advised to soak them rather use a mop or damp cloth.
Repairing LVT/LVP
It is very easy and simple to repair LVT/LVP. It is not necessary to remove the entire floor just to fix small scratches or holes that may occur. Although this is sometimes necessary depending on the severity of the damage.
Use clear epoxy resin and in any case, you need to match the color of the floor, an acrylic paint is advised to be mixed with the resin. Then using this mixture, it will be easy now to fill any holes on the surface of the floor.
Luxury Vinyl Tile Installation
LVT and LVP are easy to install depending primarily on the tile you buy, first is the one with a tape down system that does not need an adhesive to install it and the second one is the one with a tape down system that needs a special adhesive designed primarily for this type of vinyl. But we would recommend to you seek advice from our experts.
For an estimate on your home or business, kindly contact Northside Floors today so we can help you make the right decision for your home or business with many colors and designs to choose from. We offer reasonable and affordable costs to our clients!
Sumpter Plus Tropic (600)
Sumter Plus offers wood Plank visuals with embossed surface, up-to-date styling, and coloring constructed with virgin vinyl that's durable and easy to clean.