Stairs, Treads & Staircases
If you are building a new home, renovating, or changing out the flooring in your home, you will likely face the decision of what to do with your stairs.  Do you match the flooring downstairs or upstairs if they are different?  If your upstairs and downstairs will have the same flooring, then the decision may be very simple.
Stair Nose/Bullnose
Laminate stair noses or bullnose moldings are the solutions to your flooring dilemma when it comes to your staircases.  The rounded stair nose gives you that perfect finished edge on your stair tread and will match the rest of your new flooring in your home.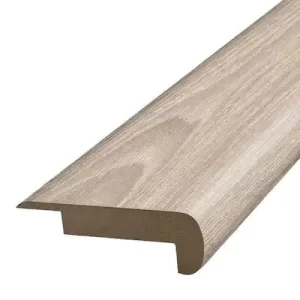 The Anatomy of a Staircase
Handrail: The handrail is the horizontal rail that you hold on to and that also supports the balusters.
Newel: The newel post is the post or structure at the end or corner of the staircase. The 'starting' newel is the newel at the bottom of the staircase. The 'landing' newel is the newel at the top of the staircase.
Tread: The tread is the horizontal piece of the stair where you step.
Riser: The riser is the vertical piece that connects two treads.
Bullnose: The bullnose is the rounded edge of the stair tread.
Stringer: The stringer is a structural element of the staircase that holds the tread and riser together.
Baluster: The baluster is the vertical post that supports the handrail.