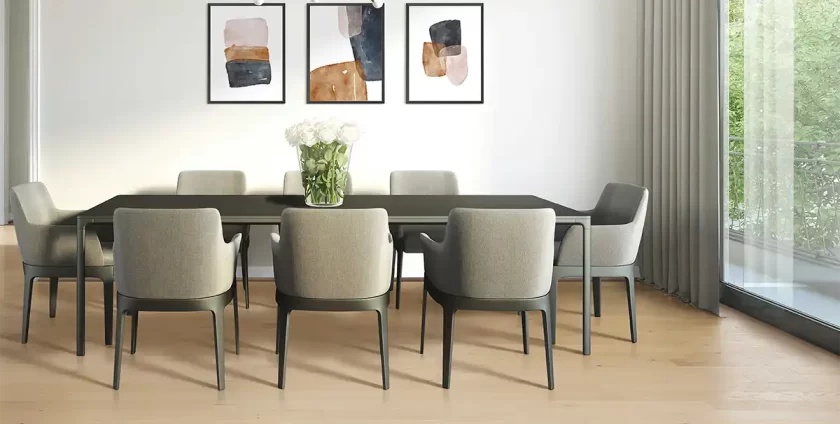 Laminated parquet is one of the most demanding products on the market for installation in the living room, living room, hallway, even in the kitchen, bathroom and closet. Along with the many advantages, such as low cost, good looks, easy installation and after-sales support, it also boasts durability.
However, there are factors that can very quickly pave the way for major challenges. Under the influence of heavy traffic, the presence of pets, lack of attention when moving furniture and high humidity, the flooring is susceptible to damage. Dents, scratches, yellowing, and others are beginning to appear. There are some basic and additional protections to reduce the likelihood of such damage.
3 ways to protect laminated parquet
Protection with pads and rugs
Attach protective pads to the furniture – furniture is one of the main causes of damage to the flooring. Moving them from one place to another, without lifting, creates a condition for the appearance of long lines. Experts advise attaching protection pads to their feet to avoid unpleasant scrubbing or scratches, as daily tables, chairs, and stools are moving in the room and other rooms.
You have a choice of the type of material to put underneath – plastic, rebate, carpet, and more. You will not find it difficult to find them because they are available in almost any store where flooring is available. The best option is to glue the protective pads with glue from the side that will be to the furniture. This allows for easy displacement, without worrying about moving the shields. You are probably aware that they wear out with time and need to be replaced.
Put carpets or rugs on the laminate
Carpets in this case will play a role not only as a beautiful accessory in your room but also as a safety shield against to damage your floor. Put them in strategic places such as heavy pedestrian traffic, under the feet of heavier furniture, which can cause scratching or scratching on the surface as well as in places where they can not be in contact with humidity or water.
For even more comfort when you step on them, put extra rubber pads under the carpets. Thus, even in areas with great movement, they will not slip. Keep in mind that larger mats will cost you so expensive, so you have to figure out what protection to choose
Place bedding in front of the doors
You probably noticed beautiful and interesting bedding in the homes of relatives and friends that give a different look to the entire interior. They have a dual function here – visual and protective. If, with the entry, all passers-by step directly onto the laminate, this may be a problem.
Dirt, small pebbles, or grains of sand that will cause scratches may have been loosened on the shoes. Such "welcome" pads can save the floor from damage and extend its life. Immediately after entering your home, everyone will wear their shoes. You can use this trick and other places you think is at risk. It is generally advisable not to walk with shoes inside, so you can make a personal ban on the whole family. This way the floor will be protected and will always be cleaner
Replace the plastic wheels with rubber
It may sound a little crazy and too engaging, but replacing the wheels of frequently moving furniture will save you from replacing the floor in the whole room. Chairs are the ones that move most often, though not everyone can change. Do it mostly with heavier and massive chairs, like office chairs you use for desks.
Children love to walk around the premises with them – it is like a game. Keep in mind that if you do not take precautions at the moment, this game will cost you a replacement with new flooring. Buying rubber wheels will also not make you harder – but look for soft ones.